Description
By Texe Marrs. Hell's Mirror is the first book to unravel the warped and perverted minds of the Illuminati Elite. These wicked and diabolical men and women are double-minded, and they are building a strange two faced globalist empire right before our eyes. Here you will discover the inner secrets of these Builders.
You will actually see their astonishing architectural creations and understand how their sinister projects dark buildings, monuments, statues, and parks are all part of Satan s end-time system. You will be shocked to find out about the obituary cult, an exclusive, underground group of super-rich charlatans and necromaniacs bent on destroying the Old World and replacing it with almost a carbon copy of Hell s Kingdom.
Throughout human history, these notorious gangsters have organized secret societies based on their worship of Lucifer and their demonic-inspired ideas. Today, their globalist empire is almost at its zenith. Soon, they will be given the magic word by their Master, Lucifer, and the earth will be swept up instantly into a dramatic, human-killing bordello of death, sex, and consummate evil.
Discover now, in these pages, how they view your life and mine as unworthy of their grandeur. The scary conclusion is that the Illuminati Elite are not truly human. They don t think like you do.
Softcover, 224 pages, $25.
About the Author
Well-known author of three #1 national Christian bestsellers, including the landmark bestselling book, Dark Secrets of the New Age, Texe Marrs has also written 42 other books for such major publishers as Simon & Schuster, John Wiley, McGraw-Hill, Prentice Hall/Arco, Stein & Day, and Dow Jones-Irwin. His books have sold millions of copies and have been published in many foreign languages, including Turkey, Greece, Romania, Finland, Norway, and Sweden. They have been featured as main selections of the Christian Book Club, the Conservative Book Club, and the Computer and Electronics Book Clubs.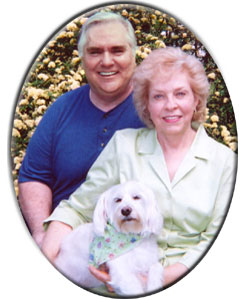 Texe Marrs and wife, Wanda, and their dog, Miss Daisy.
Texe Marrs was assistant professor of aerospace studies, teaching American Defense Policy, strategic weapons systems, and related subjects at the University of Texas at Austin from 1977 to 1982. He has also taught international affairs, political science, and psychology for two other universities. A graduate Summa Cum Laude from Park University, Kansas City, Missouri, he earned his Master's degree at North Carolina State University.
As a career USAF officer (now retired), he commanded communications-electronics and engineering units. He holds a number of military decorations, including the Vietnam Service Medal and the Presidential Unit Citation, and served in Germany, Italy, and throughout Asia. He was chosen Airman of the Year while serving in Korat Air Base, Thailand.
President of Power of Prophecy Ministries and RiverCrest Publishing in Austin, Texas, Texe Marrs is a frequent guest on radio and TV talk shows throughout the U.S.A. and Canada in response to the public's search for greater insight into Bible prophecy, secret societies, politics, and world affairs. His latest books are Conspiracy of the Six-Pointed Star—Eye-Opening Revelations and Forbidden Knowledge About Israel, the Jews, Zionism, and the Rothschilds; Codex Magica: Secret Signs, Mysterious Symbols, and Hidden Codes of the Illuminati; Mysterious Monuments: Encyclopedia of Secret Illuminati Designs, Masonic Architecture, and Occult Places; and the highly acclaimed Conspiracy World: A Truthteller's Compendium of Eye-Opening Revelations and Forbidden Knowledge.
In addition to his many books, Texe Marrs has produced over 30 bestselling video documentaries, including the investigative exposé, Die, America, Die!—The Illuminati Plan to Murder America, Confiscate Its Wealth, and Make Red China Leader of the New World Order, as well as Rothschild's Choice—Barack Obama and the Hidden Cabal Behind the Plot to Murder America, a #1 national bestseller at Amazon.com. Texe Marrs' monthly newsletter is distributed to tens of thousands of subscribers around the world. His radio program, Power of Prophecy, is beamed by shortwave radio and internet to nations around the globe.