Showing 421–432 of 432 results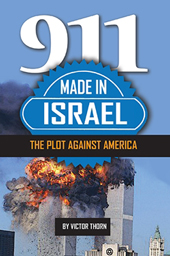 $

15.00
Victor Thorn (1962-2016) founded Sisyphus Press in the fall of 2000. He is the author of 54 different works, including 30 books, 19 chapbooks, as well as five anthologies which he served as editor. He has published the works of numerous writers in the alternative media such as Michael Collins Piper, Adam Gorightly, Lisa Guliani, Mark Glenn, John Kaminski, Joan d'Arc, Pete Papaherakles, Carl Robinson, and Pat Shannan, while also producing five CD-ROMs and DVDs, one of which is a five-disc collection that covers the John F. Kennedy Assassination (Evidence of Revision). Thorn's political articles have appeared in various newspapers around the country. He has also freelanced for magazines such as Paranoia and The Barnes Review.
In February 2001, Thorn founded Babel magazine, an online publication that ran until early 2004 and featured some of the first articles devoted to the 9/11 conspiracy.
One of his books, The New World Order Exposed, was translated and published in Japan in 2006, while 9/11 on Trial has been republished by Progressive Press, and was also released in France to coincide with the fifth anniversary of 9/11.
After co-hosting The Victor Thorn Show on the Reality Radio Network from 2002-2003, in February 2004 he co-founded WING TV (World Independent News Group), a daily Internet television and radio talk show viewed in over 100 countries worldwide. In addition, he was a weekly investigative reporter for American Free Press from 2007 until his death in 2016, while serving as AFP's assignment editor in 2011.
Thorn has also made hundreds of different radio appearances (including "Coast-to-Coast AM" and "The Lionel Show" on WOR 710 in New York City) and has done weekly one-hour news updates on Alex Merklinger's "Mysteries of the Mind," while also appearing weekly on Vyzygoth's "From the Grassy Knoll" and Frank Whalen's "Frankly Speaking Radio."
Thorn was an avid political activist who spoke at the OKC Bombing 10th anniversary, as well as before the America First Party. He also protested in six different states, not to mention at Ground Zero on several occasions, and in front of the White House in Washington, D.C.