Showing 373–384 of 418 results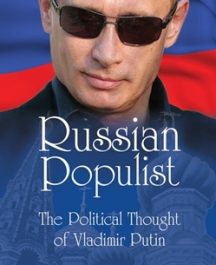 $

25.00
Matthew Raphael Johnson received his Ph.D. in comparative politics and political theory from the University of Nebraska in 1999. Working largely on classical political thought throughout the 1990s, he shifted to Slavic studies near the end of his graduate education. His first book, published also by The Barnes Review, was The Third Rome: Holy Russia, Tsarism and Orthodoxy. He has also published widely on Balkan politics, Russian and Ukrainian literature, as well as contemporary politics through the lens of the Orthodox church. An increasingly well known expert on Russian history, Matt has written numerous articles that have been published in major journals in several languages.
His first position out of graduate school was to assist in researching (and eventually editing) The Barnes Review, and doing research and writing for both The Spotlight and later, American Free Press. Converting to the Russian Orthodox Church in the late 1990s, Johnson also received a monastic theological education from the Monastery of the Holy Name in West Milford, NJ. Married with two young children, Johnson makes his living writing as a freelance researcher, teaching at several universities, and writing full-time in the anti-globalist movement.
He is also author of several books in addition to The Third Rome, including: Sobornosti: Essays on the Old Faith; Heavenly Serbia and the Medieval Idea; Orthodoxy, Autocracy, Nationality: Lectures on Medieval Russia and The Ancient Orthodox Tradition in Russian Literature.
One of Johnson's overarching projects is to continue the work of Gogol in reconciling Ukrainian and Russian nationalism through the lens of a shared Orthodox faith and monastic tradition.
Synthesizing the Romantic movement of Herder and Kostamarov with the Orthodox, Slavophile approach to philosophical topics is his all consuming idea. Convinced that the East is well poised to continue the battle against globalization, Johnson's approach is to borrow heavily from the Orthodox monastic tradition is situating man within an ethnic, agrarian and localist order.