Description
Renew your AFP subscription or purchase a new one now for ONE year at $53—a savings of 10%—and we'll mail you a $5 Bonus Bucks shopping certificate.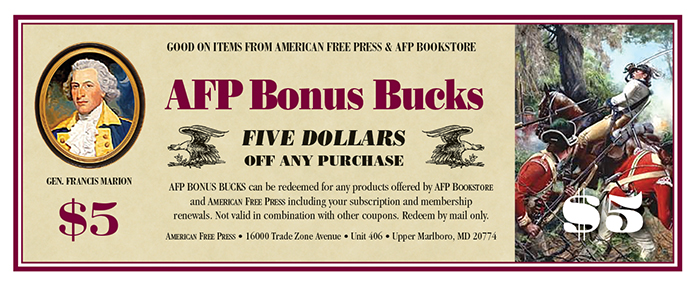 When you renew your AFP subscription using this offer, we'll immediately drop a $5 "Bonus Bucks" Shopping Certificate in the mail for you. You can use these Bonus Bucks for any items we sell at the AFP Online Store and in the American Free Press newspaper, including subscription renewals and product purchases. There is no expiration date on the certificate, but they are not valid with other discount offers. Only one certificate per order. Thank you.
Click here to review AFP's most recent book and video catalog online.
This offer only valid for U.S.A. addresses.
AMERICAN FREE PRESS Summary of Benefits:
1) Low Renewal Rates for AFP . . . . . . SAVE
2) $5 or $10 Shopping Certificate . . . FREE
3) AFP Email News Alerts & Offers . .FREE
4) New Book & Video Catalogs . . . . . . N/C
5) AFP Money-Back Guarantee . . . . . .N/C